Click
here
to go to the AJHS 2022 Co-curricular Music Form.
Click
here
to go to AJHS 2022 Music Enrolment Form.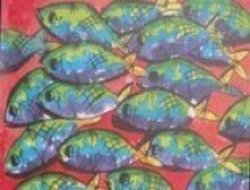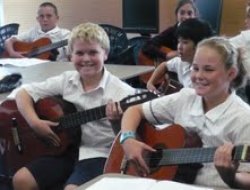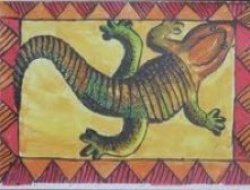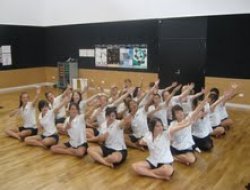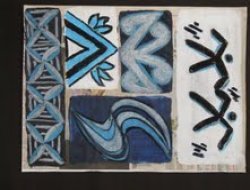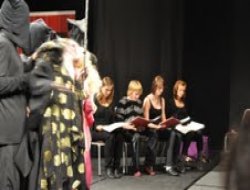 Albany Junior High School has a strong commitment to the Arts with Music, Drama and Visual Art all compulsory subjects in Years 7, 8 and 9. Students are treated to state-of-the-art facilities and our Performing Arts centre is often used for regional and national events. Every 2 years all strands of the Arts Faculty combine to stage a school production. Students take lead roles in all facets of the show – choreography, backstage management, lighting, sound, set design, marketing, direction and performance. Past shows include Honk and School House Rock and this year we are doing Little Shop of Horrors.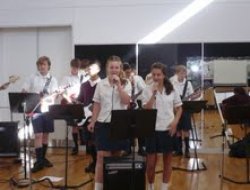 Music
As well as studying Core Music in Years 7, 8 and 9 students may opt to study Performance Music in Years 9 and 10. In these programmes students are given the opportunity to develop their creativity and abilities on their respective instruments as well as expand their musical literacy, aural perception and awareness of various musical styles.
Students have the opportunity to learn a wide variety of musical instruments through our instrumental tuition programme and we have 14 itinerant music tutors who come into the school each week to run these.
A wide variety of co-curricular groups are offered to students. These include several Rock Bands, Chamber Orchestra, Concert Band, Jazz Band, 2 Guitar Groups, Flute Group and Choir. Performance opportunities include the KBB Music Festival, the Big Sing, Smokefree Rock Quest, Battle of the Bands, Variety Concerts, Showcase and Cabaret evenings, as well as multiple community concerts.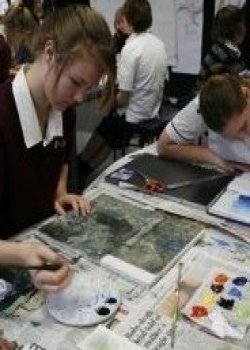 Visual Arts
In visual arts education, students develop visual literacy and aesthetic awareness as they manipulate and transform visual, tactile, and spatial ideas to solve problems. Students explore experiences, stories, abstract concepts, social issues and needs, both individually and collaboratively. They experiment with materials and processes to develop their visual ideas within a range of practices across drawing, sculpture, design, painting, printmaking, photography, and moving image.
Students view art works relating them to their own experiences and share their responses and interpretations, as well as investigating the contexts in which art works are created, used, and valued.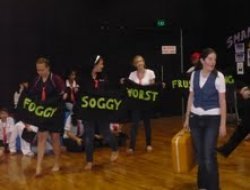 Drama
Drama at Year 7 and 8 levels is integrated with the curriculum topics taught in other subjects. Some of the tasks focused on across all year levels are building confidence, developing ideas, devising scripts, performing, and group and individual work.
The students have the opportunity to take part in the annual Sheilah Winn Regional Shakespeare Festival, as well as watching performances from other school groups. They are also given the option to take part in a variety of workshops held during lunch times to build on their passion for Drama and performing.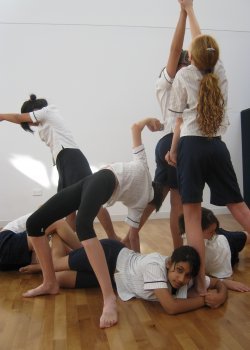 Dance
Dance is a lively and thriving subject at AJHS with student numbers continuing to increase. Variety is the spice of life and that is certainly what students experience when studying Dance.
Typically in Year 9 students will experience Scottish Country Dancing, Cha-Cha, Rock n' Roll, Samoan Sasa, West African Dance, Chinese Sword Dance and Indian Bharatanatyam. Learning choreographic skills and vocabulary is also part of the course and students enjoy creating their own dances to perform at assemblies and the like.