Taemin Lee, Year 9, Korea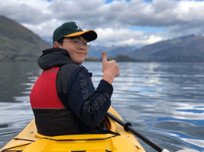 Kia ora, my name is Taemin. I am an international student from South Korea. I have been attending Albany Junior High School since 2019.
As an international student, I have met many different homestays and they have helped me adapt to my new environment. They have accelerated my casual English which helps me to express myself clearly. The systems for international students at AJHS are very well organised. ESOL is a particular class for students learning English as a second language. ESOL helps you to speak, read, write, and listen in English. It helped me with understanding every other subject I am learning at school.
In addition, AJHS has a lot of events that anyone can join. For example, every Wednesday we have whanau sports, where the four whanau blocks, Ruru, Kiwi, Makomako and Tui compete. There are numerous types of sports teams, art performances and competitions. I made lots of friends while playing sports and therefore I felt very included when I was so far away from my home country.
There are so many different subjects that you can choose from for Year 9 and 10, such as languages, sciences and technologies. Sports science is my favourite subject because it's completely different from a normal PE class. We learn how the body functions and how our muscles work.
From my perspective, I believe that if you plan to study abroad, then you should think seriously because it is a matter of whether you work hard or not, and whether you use the systems that are available for you at school. When I came to New Zealand I thought my English skills would improve spontaneously, but I was wrong. I realised I needed to work hard and be prepared to make mistakes. My parents helped by supporting me and telling me that "failure is defined by our reaction to it".
During the last 2 years I have tried to participate in school activities. If I didn't understand, I asked the teacher and started conversations with other students from other countries that did not speak Korean. Now I am very glad that I mustered up the courage to be brave and get out of my comfort zone. I can proudly say that I challenged myself to be active at school. Thanks to my AJHS friends and teachers, I enjoy being in New Zealand.
---
Aiden Lim, Year 7, Korea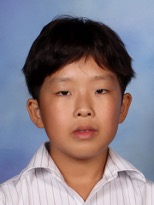 Hi, my name is Aiden Lim and I'm from South Korea. I have been in New Zealand since 2018, and live with my sister and my mum. Our dad is in South Korea working hard.
At AJHS (Albany Junior High School), there are a lot of activities to experience such as fabric, hard technology, food, science, music, art, math, and much more.
When I first came to AJHS I was worried the teachers might be very strict, but they turned out to be friendly and kind.
There are four whanau buildings, Ruru, MakoMako, Kiwi and Tui. I wondered why they chose those birds in particular, and I found out it was because they are birds that only exist in New Zealand.
Programme time on Fridays period 4 is a lot of fun. You can choose what programme you want to do and there are over 50 subjects to decide from!
At Year 7 camp I was very happy because there were so many activities I really wanted to participate in. I was doing many things like going in the sea and playing with my friends, but my favorite activity was the camp skit. This is a project where you act out a play or a scene with your team.
I really enjoy AJHS because it's fun, educational and is just a great school. Come to AJHS and be happy!
---
Bella Lim, Year 8, Korea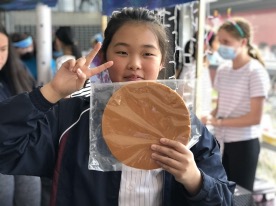 Hello, my name is Bella Lim and I am from South Korea. I lived in New Zealand for 3 years, where I attended Albany Junior High School (AJHS), which was a great experience and memory I will always treasure.
First of all I loved the subjects at AJHS – there were so many that I would never have experienced in a South Korean school. Subjects like Fabric, Food, Digital, and Science. In South Korea we would have had to sit and study a book, but at AJHS we actually experienced it in real life. I also liked that we did Physical Education regularly. When I was in South Korea we often stayed in the classroom rather than went outside to run around. I think it is quite nice enjoying the sunshine and fresh air.
Secondly, I liked the events the school organised, such as school camps, sausage sizzles, school musicals etc. The camp activities were just so cool and fun. I didn't miss my parents much during the camp because it was so fun hanging around with friends and doing camp activities together. You do not want to miss camp! Also, when the sausage sizzles were held, you were able to eat your lunch and a sausage sizzle too. I sometimes saved money for my sausage sizzle. And I saw people practising for the school musical, (which was High School Musical). It was gorgeous, exciting and great. It was based on the movie called High School Musical. You definitely do not want to miss the chance to watch that.
Thirdly, I loved the whanau system. There were four whanau; Ruru, Kiwi, Makomako and Tui. I was in Kiwi. I think the whanau system helps us participate in school activities. The whanau that earned the most whanau points received the prestigious Whanau Cup. How awesome is that? It makes people competitive and helps more people join the whanau sports and whanau activities to earn points. I think it is a really cool concept.
Lastly, I loved the people. The teachers and students are so nice. When I struggled with something, the teachers were there to help me. Especially when we were in lockdown, teachers always helped me and kindly showed me what to do.
They also always encouraged me, and so did my friends. They were always by my side.
There are more amazing things to share about the school, but if I write everything it will take me ages! I just want to say that this school is amazing. If I had to choose the best school I've ever been to, it would be Albany Junior High School.
---
Sakiya Mitani, Year 10, Japan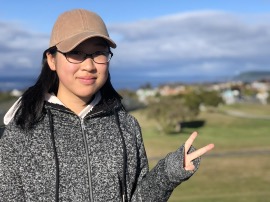 Hi, I'm Sakiya and I'm from Sapporo, Japan. I came to AJHS as an international student in 2019.
AJHS has great teachers and a wonderful environment. When I was in Japan, I could never go outside my classroom during lunchtime. We were always in the classroom, doing so much work. Even though the work can be challenging, the teachers are always asking me if I'm okay, so it's easier for me to ask them for help. Also my ESOL teacher is always willing to help with any subject I'm struggling with, so I'm very much enjoying being an AJHS student.
---
Zoe Feng, Year 10, China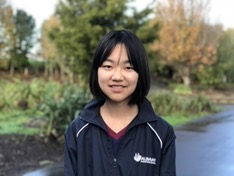 I'm Zoe from China. I'm a year 10 student at AJHS and have studied there since 2019.
I have many friends and have met a lot of kind teachers. When I have problems, I ask them for help and they are very happy to assist. There are lots of interesting subjects for you to choose from too. My favourite subject is Art. I am learning lots of different drawing skills in class. I'm really happy that I study at AJHS.
---
Mos Parnnium, graduated in 2020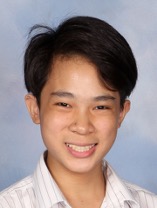 Hi, I'm Mos and I graduated from AJHS in 2020. I am from Thailand and have been living in NZsince 2018.
I had a lot of incredible experiences in AJHS, especially being an International student. I have learned so many skills that will improve my future, which I have applied to my senior school too. As an international student, living with a homestay makes me feel like I'm at home, and they always give me a lot of support and make me feel like I am a part of the family.
Being at AJHS has given me the ability to make my own decisions. The AJHS day starts at 8:45 and finishes at 3:10. This gave me a lot of time to prepare myself in the morning and also after school, which is a good time for me to do some activity outside the school.
---
Muchamon Chalermnon left 2013, Thailand
Hello, my name is Muchamon Chalermnon. I am a former student at Albany Junior High School and I want to share with you how my time at AJHS has shaped me into the person I am today. My journey at AJHS started in 2012 when I was just a young and enthusiastic Year 7 student. Unfortunately I had to leave school at the end of Year 8 to go back to my homeland, Thailand. Although my time at AJHS was not long, the valuable experiences I received really helped me to achieve what I want to in life.
I have graduated from the International LL.B. Program in Business Law, Faculty of Law, Thammasat University with a First-Class Honours with the highest score. After graduation I had a great opportunity to work in a well-recognised law firm in Bangkok called Able & Primpton, where I'm currently still working.
Anyway, let's first go back a bit to when I was an AJHS student. As a 'freshy' of the school, I was placed in Kiwi Whānau. Whānau is a Māori word meaning family. As for how the meaning suggested, the Whānau structure has truly served its purpose in creating a mini home within a big school. It allowed me to create a strong relationship with my peers and teachers. Outside the Whānau sphere, I also made many great friends through classes across Whānau and school activities. Every friendship is pure sincerity. Even though my friends and I have drifted a continent apart after we graduated from school, we are still very proud to call each other BFFs.
On top of the life-long friendships, AJHS has opened the door of opportunity for me to try out new things. During the 2 years at AJHS I have participated in quite a lot of activities. For example, I got to learn many languages like Spanish, Japanese, and Maori. I participated in many sporting events like running races, cross country, triathlon, orienteering, and diving. I also obtained many life skills like cooking, sewing, and woodworking. And I learned to play the violin and be a part of the string group. I experienced working as a librarian and helped out as a kiwi buddy, plus much more! As a kid who was taught to always go out and try things, today I am empowered to never be afraid to step out of my comfort zone. Without the fear, I have introduced myself to countless great new adventures.
Another aspect worth highlighting is that AJHS has truly prepared me for the future. Mr Brandon Laurenson, who was my Year 7 homeroom teacher, created our classroom as the school's first IT-learning model classroom. Back before the Covid-19 pandemic existed, the thought of studying through an online platform was extremely out of this world for me. Mr Laurenson would encourage me to do all my work and research through the laptop, so that I could master my IT skill. With the pandemic, these skills have become extremely handy. Ms Jo Sew Hoy, who was my Year 8 homeroom teacher, was no less special. In whatever project I was assigned to do, she would not let me jump into the project right away. She would always get me to do thorough research and make a comprehensive plan first. It may sound simple, but it ensures that the outcome is cohesive and no important detail is left out. Ever since, I have adapted this style of working to every task I come across, and I can say that no outcome has ever been disappointing. All the lessons I have sat through have tremendously benefited me as a student and an employee.
AJHS has given me so much that words cannot describe it all. I want to say "Thank you AJHS for giving me the confidence to stand strong and tall, no matter where I am and what I am doing". The school has laid the fundamental foundation of my life that I am using to build upon. AJHS in my memory will always be a warm and loving school.
---
Parent Testimonial – Xin Tan
AJHS is the first school my daughter studied at in New Zealand. We took her to a number of private and public schools that we were satisfied with, but she showed a strong interest in AJHS.
The school campus is very large with various facilities available. It has 4 buildings from year 7 to year 10. Teachers are very kind, with a rigorous and interesting teaching style. In addition, there are teachers in the International Department, supporting international students' daily affairs. They help students and parents with difficulties in their study and daily lives. They also organise activities to fulfil students' holiday life.
My daughter has spent two years at AJHS and has a happy study life. She has also made lots of friends. I really appreciate teachers' consideration and care which have helped my daughter in quickly adapting to unfamiliar surroundings. In the beginning she was afraid of going to school, but now she is very happy and excited to go to school every day. The "right" school is more vital to the children.
Student: Christina Xu