At Albany Junior High School we take the health of our students very seriously. Our goal in Guidance is to support students to reach their potential. Our work is closely aligned with the school's philosophy and core values. We work to support parents and teachers in their efforts to ensure that each student can experience the best learning outcomes possible. It is our belief that the health of any student sits within a very holistic, integrated and multi-dimensional framework as is indicated below.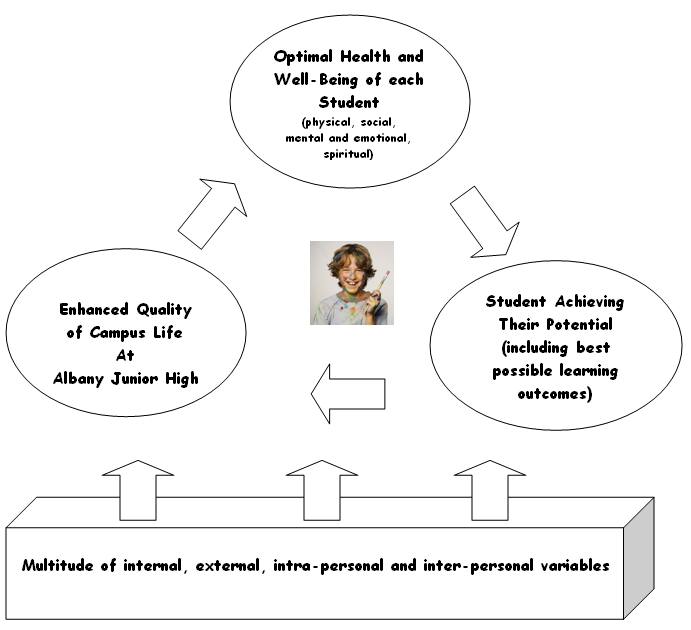 This Guidance service is also available to support staff members, as well as parents and caregivers when they have concerns about students. Students can self-refer and make an appointment via a note system outside the Guidance rooms, by visiting the Guidance rooms in person, or by email. As well as the opportunity for self-referral, student referrals can also made by concerned teachers, Whanau Leaders, or parents. When this happens the student is encouraged to attend a first session by invitation. In this instance the counsellor and student will together identify and then explore the situation that may have precipitated the referral.
As Guidance Counsellors, we aim to help students make sense of their difficulties and concerns, as well as looking for opportunities to develop each students capabilities and resilience. We aim to foster conditions whereby the student can grow and develop as a caring, contributing and responsible young adult. We aim to empower students to make informed decisions. We promote awareness of and respect for difference, and we seek to act for those who are disempowered. It is not the role of the counsellor to discipline or punish students as this could compromise the counselling relationship.
For most students, their time at Albany Junior incorporates their journey through puberty into young adulthood. With the rapid changes that are occurring on many interconnected fronts – physically, emotionally, socially – we aim to support students in their effective navigation of these often turbulent and unknown waters.
When choosing to access support via the schools Guidance services, the issues brought to a counselling session can include: relations with peers and peer conflict, anger management, self esteem, classroom concerns, classroom teacher concerns, classwork concerns, change, loss and grief, sexual health and sexual identity, depression, anxiety, stress, bullying, drug and alcohol related concerns, or crisis and trauma within the context of home and family.
Due to the diversity and complexity of the issues that students can bring to a counselling session, at times it is helpful or necessary to involve outside agencies or community groups. Whether liaising with these people, or with other staff members or family/Whanau, at all times the counsellor will be operating within a confidential and ethical framework. At times there are tensions between different aspects of the counsellor's role, e.g. advocacy for students alongside respect and support for the role of parents. The physical, mental and emotional safety of the student is of paramount importance at all times.
The school endeavours to have a trained counsellor on-site and available to students at all times. The Guidance Department is part of the Student Health Center. Demian Shaver, Deputy Principal, is Head of Guidance. Should you have any questions or concerns about the school Guidance service, please feel free to contact the school directly via phone or in person and speak with a member of the Guidance team.